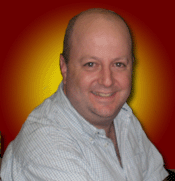 Dave Rinelli

Weekdays 6am - 9am

Greater Danbury's Only Live & Local Talk Morning Show

So you'd like to know a few things about me…
Next year will mark my 25th year broadcasting in Danbury, with much of the time being spent here at the "Mighty 800". Radio is my calling, I've loved it all my life. When I was a little kid I used to play with 45's and a microphone in the basement and pretend I was on the air!
I was born in Wisconsin, moved all around the country, and have lived in Danbury for more than 30 years. I went to Western Ct. State University and Danbury High School. Because of my Wisconsin roots, I am a die-hard Green Bay Packers fan. I also make a mean aged cheddar omelet…I love my dogs (Boston Terrier and Rotti/Shep mix) and enjoy going on hiking and swimming adventures with them. Another favorite is stock car racing. Most Saturday nights in the summer you'll find me at the track yelling at cars that go fast and behaving somewhat appropriately….hmmm….
Thank you for your interest in the show. I try to make it lively, informative and fun--something you look forward to waking up to in the morning. Like a good cheddar omelet….
Best wishes,
Dave